How a home is staged plays an essential role in how fast it is bought. It is said by the majority of home buyers that they prefer staged homes because they can easily imagine how their future home will look like with certain property.
You might think that it means you must rent a range of appropriate furniture and then place it in the home. So, it will cost you a fortune that you may not afford. Then, you are thinking of rejecting this costly and time-consuming method that suits high-end real estate agents better. 
However, no worries when there is the availability of virtual staging. Thanks to the advancement of technology, and here it is the growing popularity of virtual staging that helps to enhance the rooms of a home with furniture and accessories, but without any above issues. Then, you will have amazing images as realistic as the ones made by traditional staging, but with much lower cost and less time.
Unlike the traditional staging with all frustrating things coming along, by using virtual staging, your work will just stop at choosing the theme and the style you want. That is the reason why we write this article, presenting you with some of the interior design styles for home staging that are chosen the most. We hope it will help you with picking the right one fitting your desire.
1. Traditional Style
Actually, traditional interior design style is the combination of a range of old-school European styles.  The typical features in this style can be listed:
Wood paneling and elaborate moldings

Elegant and antique furnishings

Pairings of furniture and accessories with vibrant colors

Intricate tile and wood floor patterns

Neutral palette

Expensive textiles
It is noticed that the outstanding key markers of the traditional interior design are dark woods, rich tones, and intricate colors. Also, the walls are often painted with neutral colors,  which highlights the furniture and decorative accents. A lot of architectural details are also preferably included. They could be coffered ceilings, wood paneling, and in-built cabinetry.
Another unique aspect of this interior style is 'symmetry' which means everything from lamps to sofas has to go in pairs. This can be explained that traditionalists want to have a balance with a focal point in the room which can be a decorative piece of art, the fireplace or the television.
In short, the traditional interior style will be a good choice for those who are interested in things with a rich history behind them, things like classic art pieces and antique items.
2. Urban Industrial Style

As its name has suggested, this style is used the most in inner-city areas. It focuses on the use of neutral tones, metal, and raw brick and wood. In more detail, people often see in the urban industrial style metal fittings, bare brick, exposed wood, neutral and earthy colors, leather chesterfields, and an antique feel with reused vintage items.
This is the choice of urban residents living in apartments and inner-city living space. Noted that with all the above-mentioned features, space can become very dark. Therefore, consider using it if your space has high ceilings with a lot of natural light.
3. Modern/Contemporary Style

creates a comfortable and calming feeling in a roomThe modern style can fit different home types. This style tends to be simple, uncluttered spaces with smooth and clean lines so that it creates a comfortable and calming feeling in a room that will be a great advantage in a broad market.
Here the list of defining markers of the modern style:
No clutter and chaos; limitation of ornament

Intentional asymmetry

Geometric-patterned or plain area rugs

Furniture with clean lines and basic shapes made of metal, chrome or glass

Neutral primary colors and bold color contrasts
4. Shabby-Chic Style
Main shabby-chic features:
Vintage fabrics and items

Whitewashed and pickling floors

Soft and feminine feel

Distressed and painted furnishings

Pale palettes and floral prints

Wallhangings, flimsy light fixtures, and linen textiles
With the rising popularity of vintage and DIY home decor, this style should be in your list of recommendations. Despite inspired by the vintage designs and styles, it tends to be more feminine, softer and more delicate. Also, its characteristics are a mixture of contemporary and modern styles.
5. Scandinavian Style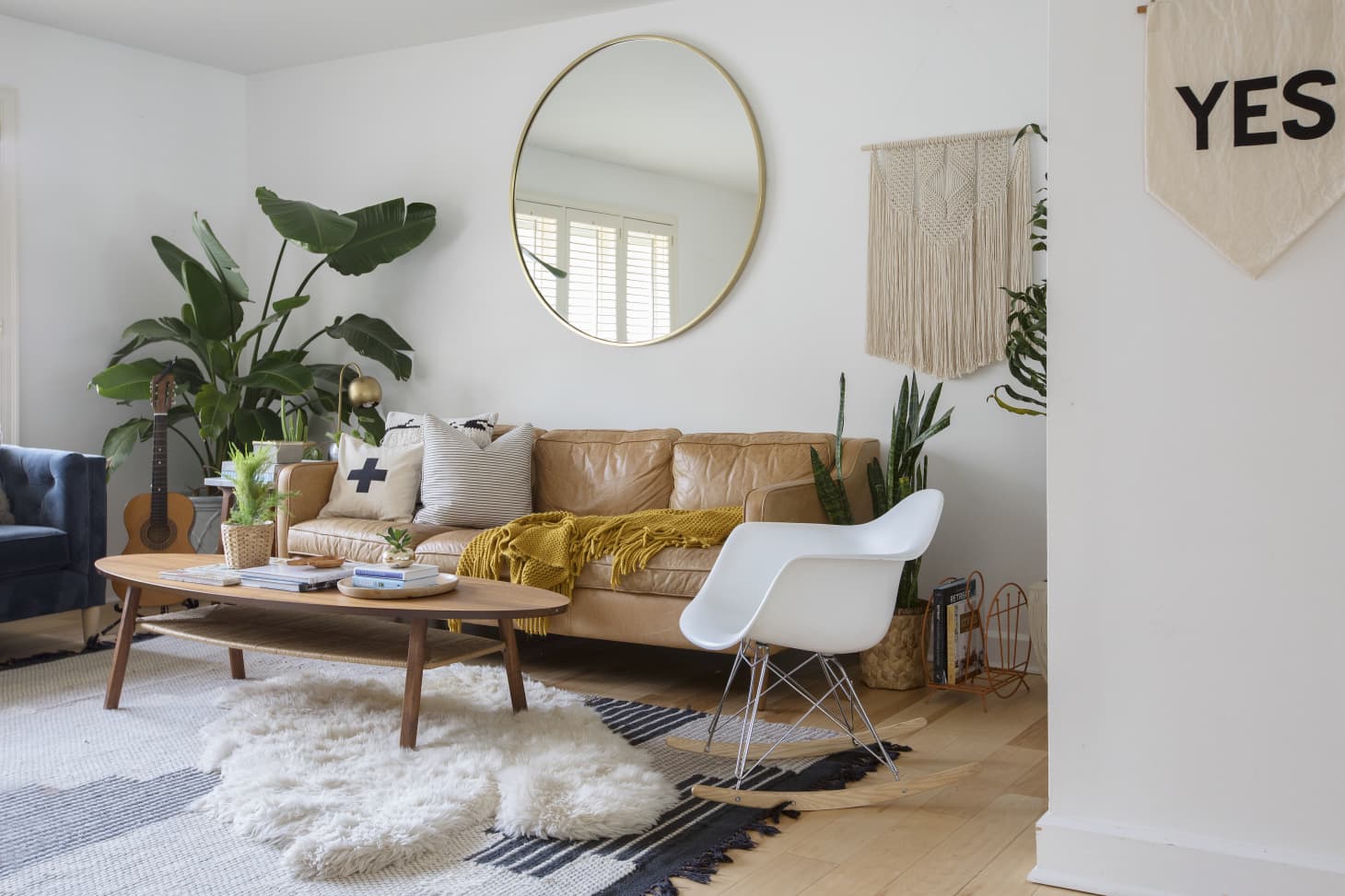 This style is becoming more popular thanks to the emergence of Ikea furniture with its great functions. The Nordic countries of Europe are said the original place of this interior style that expresses the Scandinavian interest in simplicity and functionality. A Scandinavia home creates viewers a clean, smart and luxe feel. Here are the main features:
Minimal clutter

Neutral colors

Indoor plants

Lightwood

A lot of natural light
To sum, the Scandinavian style suits the homes with light wood and lots of light to make a modern feel. This style seems to be a good choice for small homes and apartments because simple designs can make them feel bigger. Last but not least, it is getting in vogue in the younger community.
6. Rustic Style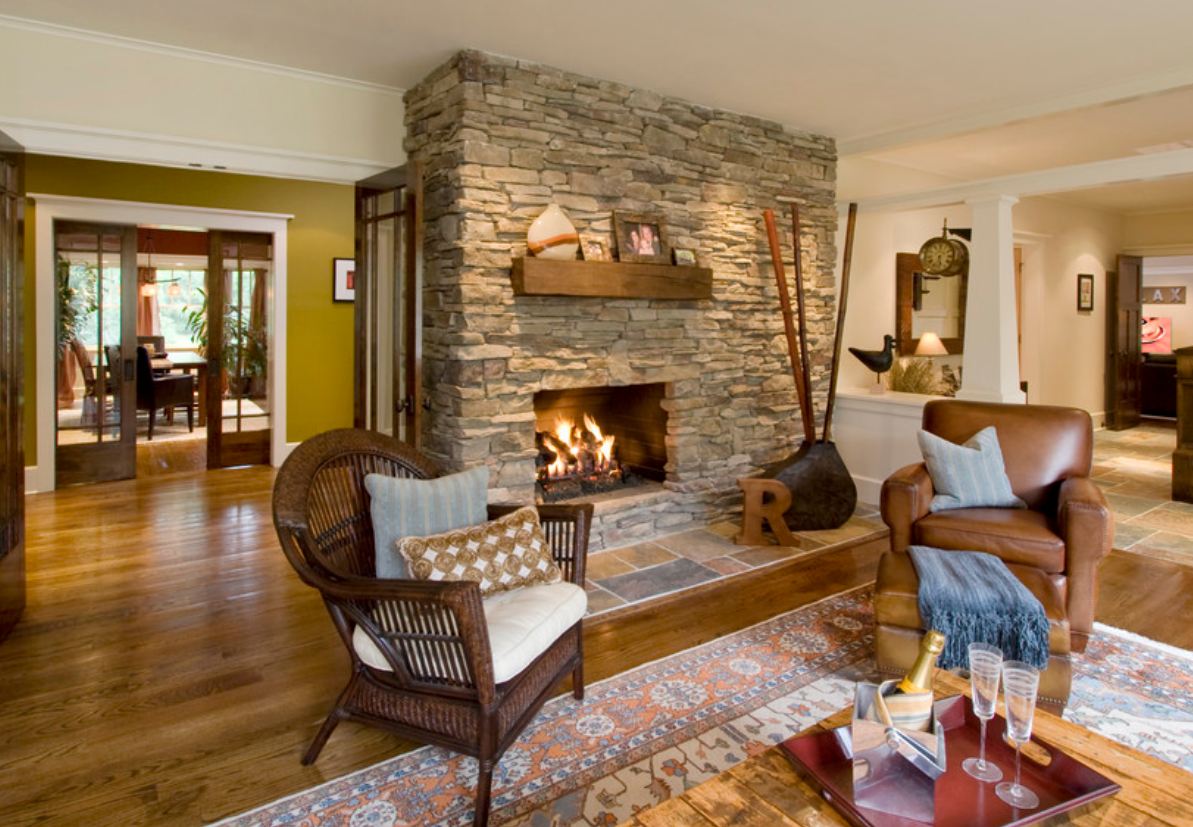 The truly raw and often unfinished elements made of stone and wood predominate in the homes staged in rustic style. The ideas for this style derive mostly from natural inspiration, using the accessories coming from outside spaces as well. In other words, the design contains architectural details and dramatic features with an earthy and organic touch. To make this style more modern, some designers will combine them with a trend of modern and contemporary rustic. That is a great idea!
Some Rustic style features that you need to know:
Wooden flooring

Stonewall

Exposed ceiling beams

Reclaimed wood

Distressed and handcrafted items

Wood-burning fireplace and prominent staircases

Simple neutral-colored natural fabrics
7. Farmhouse style
This is the ideal style for the homes in a country setting, cottages, beach houses, large family homes. It is said that farmhouse is the big change of the older cabin and it is a French provincial decorating style. It appears quite like the rustic styles, but it is lighter as it incorporates some shabby-chic style to add a cozy feel. It can give a sense of grace and charm, but still a practical space to live.
Farmhouse style's key features involve:
Vintage wood furniture with a rustic flair

Rough Textures

Different-style furniture but complement each other

Mostly white and beige colors

Large kitchen and dining place

Wide plank floors
Thanks to its flexibility and affordability, virtual staging progresses its growing popularity in the real estate market. And the reality is demonstrating this is the truth and shows the great productivity of virtual staging. By this, you will make your home more inviting, stimulating the buyer's imagination of their future life. We offer a lot of samples illustrating how a home looks before and after virtual staging, you can see here.